Many businesses are making the switch to green web hosting providers because of the many benefits it offers. Not only is it good for the environment, but it can also save your business money on energy costs. In this blog post, we will discuss the benefits of using a green web hosting provider and how it can help your business grow!
Sending one email produces about 4 grams of CO². 
Based on the number of emails sent and received by an average office worker, that's about 176kg of CO² per user, per year. That means that an average small business produces over a tonne or CO² just from emails! 
Crazy, right?!
When it comes to web hosting, there are many different providers to choose from. However, not all web hosting providers are created equal. Some web hosts are much more eco-friendly than others and use green energy Hosting solutions to power their servers.
Green Energy Hosting providers generally use renewable energy sources like solar and wind power to run their servers. This means that they don't rely on traditional forms of energy like coal or oil, which can be harmful to the environment.
By choosing a web hosting provider which uses renewable energy, you're helping to reduce the amount of CO² emissions in our atmosphere.
How much carbon does a website produce?
Depending on the provider you choose, the CO2 produced from the server hosting your website can be reduced by around 79%! Yup, that's not a typo.
My website, according to websitecarbon.com, produces about 0.37 grams of CO2 per page load. The average amount of CO2 produced is 1.76 grams. That's a 79.97% reduction in CO2.
Now, I know what you're thinking… "That doesn't sound like much!", right? Well imagine you're getting 10,000 visits per month – then we're talking about 100kWh of energy compared to 600kWh of energy. Boiling 5,947 cups of tea compared to 38,638 cups of tea.
If you're curious to see how green your website is you can visit this page and check it out for yourself.
Benefits to Your Business
If you're open about how your business is trying to improve its environmental impact, your customers will love to see the extra steps you're taking. They will trust that your company is environmentally conscious and committed to protecting the planet. This will improve customer loyalty as well as brand reputation, which will lead to increased revenue and growth over time.
You'll save money in the long term because green web hosting is usually cheaper than traditional web hosting providers. This means less stress about how much it's going to cost each month for your web server!
You can also get yourself a cool little badge like this one: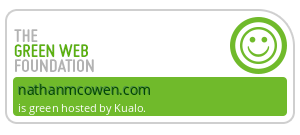 Switching to a green web hosting provider is a simple way for your business to make a big difference in the fight against climate change. By reducing your CO² emissions, you'll help improve the environment while also saving money on your web hosting costs. It's a win-win situation! For more information about eco-friendly web hosting providers, please visit our website today.
If you want to stay updated with my blog posts as they come out, follow me on Instagram:
For more content you can visit: